DREAMCATCHER by DW
San Juan, Puerto Rico
San Juan's only vegetarian hotel is located in the pristine neighborhood of Ocean Park, only 200 steps from the beach. From here it is a 10 minute walk to the highly touristic area of Condado and a short 10 minute ride to the Old City or the airport.
DREAMCATCHER was named one of the world's Top 100 Boutique Hotels by Hotels.com and it was taken into Tripadvisors "Hall Of Fame" for achieving the annual "Certificate of Excellence" for 5 years in a row.
The number one boutique hotel in Puerto Rico features 12 rooms and 7 suites; all decorated in a unique style of its own.
Guests may sign up for yoga and meditation classes, take part in sightseeing tours, paddle boarding, or opt for nature-adventure tours outside of the typical touristy options. They may also rent a bicycle and go for a ride around the neighborhood beaches or the popular Loíza Street.
Vegan-Vegetarian Brunch
The famous 3 – course Vegan or Vegetarian brunch is served daily and was featured in publications such as The Guardian & Vice Magazine. While the menu is different every day, the quality and freshness of our ingredients is consistent. There is no need to reserve breakfast or brunch, unless you have dietary restrictions (for e.g. nut allergy) then we ask you to inform us ahead of time.
Guests may also choose between juice blends, homemade hemp milk and kombucha elixirs made with all natural ingredients. These in turn could be included in their daily detox meal plans.
Relax and feel at home
DREAMCATCHER is proud to be supporting this type of experience in which guests enjoy healthy foods as they spend some time away from home.
"Everything about this hotel suggests relaxation," according to the New York Magazine. It smells of incense, as one can listen to the meditation music in the background and hear the flow of water from the fountain.
Vegan options available

Raw food options available

Gluten free options available

Lactose free options available

Breakfast available

Internet connection available

Yoga, Meditation

Daily Vegan & Vegetarian Breakfast & Brunch
Weekly Vegan Dinner Nights
Vegan, Vegetarian Snack & Juice Bar
Free High Speed Wi-fi in all rooms & communal areas
Guided Tours, Salsa Nights, Tarot Readings

Spoken language(s): English, German, Spanish

Certified by VeggieHotels
Number of rooms: 19
Price per room from: 129 US$
For prices and availability please use the booking request or visit the website of the hotel
Booking request
Address / Contact

DREAMCATCHER by DW
2009 Calle Espana
00911 San Juan
Puerto Rico
Phone: +1 - 787-455-8259
Fax: +1 - 888-790-6868

Special Offers
DREAMCATCHER by DW, Caribbean, Puerto Rico
Discover Puerto Rico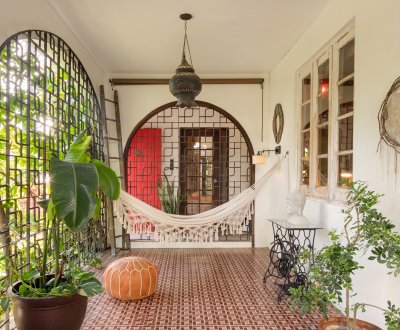 Have you ever been to Puerto Rico?
Rich history and culture, exceptional food, pristine beaches, majestic mountains, relaxation, adventure — all packed into one sun-kissed Caribbean paradise. Puerto Rico is full of people who are welcoming and buena gente (which is Boricua lingo for kind and friendly). Here, you'll feel like you are family instead of just a visitor. Around every corner, you'll find a celebration of life, a vibrant cultural experience, food for the soul, and a captivating rhythm.
Dare to discover the many treasures of Puerto Rico. Get inspired and start planning your trip. Let us be the first to say, bienvenidos.
DREAMCATCHER

by DW x Veggie Hotels Special:
10% off on all bookings with code:

VEGGIEHOTELS

valid for all stays in 2023
Event date:
October 1 - December 31, 2023