Fivelements Retreat Bali
Banjar Baturning, Bali
Nestled on the banks of the Ayung River, Fivelements Retreat Bali is an award-winning eco-conscious wellness destination deeply rooted in the island's ancient traditions, nurturing harmony among spirit, human and nature. At Fivelements, we recognise that optimal wellness comes from embracing and respecting the body, mind and spirit, where health and self-realisation are reflections of the love, authenticity and harmony within.
Fivelements' integrative wellness retreats, stays and exclusive day programmes combine:
Balinese healing rituals for purification, balancing and regeneration
Plant-based, living foods cuisine for health, beauty and longevity
Sacred arts practices for inner strength, alignment and dedication
At Fivelements, healing is inspired by the Balinese way of life, which encourages us to nurture harmony with spirit, the environment and with one another. Similarly, our holistic approach is designed to tune-in on the physical, emotional and spiritual levels, allowing an organic healing process to naturally unfold. We collaborate with our guests to activate, facilitate and nurture a new healing path, and this begins by honouring our highest potential.
Living Foods
Fivelements´ Sakti Dining Room™ is dedicated foremost to healing cuisine. Over half our selections are living raw food dishes, which are rich in nutrients and sakti healing power. The remaining dishes on the menu are lighter vegetarian preparations that nourish the body and soul. Eating pure, organic, vegan, uncooked foods can fill you with more energy than you ever dreamed was possible.
Combined with these traditional therapies are Living Foods nutrition and transformative Sacred Arts programmes.
Healing rituals
Healing rituals include a combination of meditation, deep bodywork and prana energy, performed by healers whose gifted talents have been handed down through generations of Balinese families. Energy Healing introduces the powerful Panca Mahabhuta in which Pak Wayan works to balance the five elements of earth, water, fire, air and ether within the body.
Massage therapies include Holistic Massage with Prana combination, Deep Healing Reflexology, Acupressure, Invigorating Bodywork and Muscle Release, all of which synchronise intuitive body and energy work to identify, balance and heal.
At Fivelements, we envision a place for learning to love and respect life. Our sustainability approach derives from continual interaction and mutual support of the various elements and activities that comprise life at Fivelements Retreat Bali. As such, we strive to love all of the influences within our environment, whether it be respecting water resources by storing rainwater, supporting land stewardship through village waste management programs or maintaining spiritual balance by conducting daily ceremonies. We are always seeking new ways to build on our current programs through immediate synchronicities and long-term partnerships.
Yoga Retreat Venue
This enchanting Balinese setting, with indoor and outdoor spaces set against the serene and beautiful backdrop of the sacred Ayung River, makes Fivelements Retreat Bali an inspiring location for yoga & meditation retreats, special events, corporate meetings, weddings & celebrations.
Choose to hold your memorable retreat or program in our inspirational circular, bamboo Mandalas or our two-storey Sakti Dining Room™, within our lush gardens with their sacred spaces and medicinal gardens, or on the riverside terrace beside our beautiful pool.
Weddings & Honeymoons
Facing the verdant forest hillside with waterfalls, exotic birds and natural wonders, Fivelements Retreat Bali offers the most magical destination in Bali for your pre-wedding, wedding and honeymoon celebrations.
Enjoy a memorable romantic stay in one of our exclusive riverfront sleeping suites set between lush tropical gardens and Bali's glorious Ayung River.
Indulge in authentic rejuvenating Balinese therapies, ultra romantic bath rituals and inspiring gourmet culinary journeys amidst the peaceful setting of Fivelements and our deeply nurturing eco-wellness resort.
We graciously invite you to immerse in the romance of Bali's mystical island, and embrace the spirit of Love, harmony and inspiration at Fivelements.
Our team is pleased to help you create the most beautiful experience of your lifetime.
| | |
| --- | --- |
| | Vegan options available |
| | Raw food options available |
| | Gluten free options available |
| | Lactose free options available |
| | Breakfast available, Half board available |
| | Public restaurant |
| | Built following ecological principles |
| | Allergy friendly rooms |
| | Internet connection available |
| | Family friendly |
| | Swimming pool |
| | Fasting courses, Yoga, Meditation, Cooking courses |
| | Spoken language(s): English, German |
| | Certified by VeggieHotels |
Number of rooms: 19
Price per room from: 235 US$
For prices and availability please use the booking request or visit the website of the hotel
Booking request
Address / Contact

Fivelements Retreat Bali
Mambal, Abiansemal, Badung
80352 Banjar Baturning
Indonesia
Phone: +62 361 469206

Special Offers
Fivelements Retreat, Bali, Indonesia
Signature Culinary Retreat - 3 Nights stay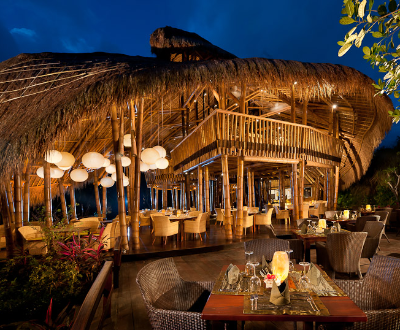 Join Fivelements Retreats' award-winning culinary team on an inspiring gastronomic journey. Study under the expertise of the award-winning gourmet plant-powered cuisine teams of Chefs and take home an in-depth understanding of this Cuisine for LifeTM.
Two-time Lunch at Sakti Dining Room & Three-time Dinner at Sakti Dining Room
Two-time Culinary Trainings (each Culinary Training is approximately 2 hours long)
One-time 45 minutes Ultimate, Neck and Head Massage
One-time Sakti Bathing Ritual in your private bath house
One-time Village and Rice field walk & Return Airport transfer
Fivelements Retreat, Bali, Indonesia
Three-Course Chef's Tasting Menu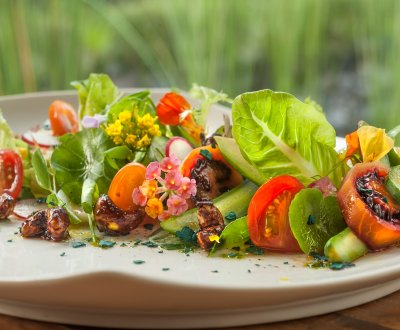 Our cuisine features epicurean plant-based cuisine in celebration of our "aliveness". Our goal is simple: To let mother nature's cuisine shine with all the exciting tastes, textures, vibrant colors and pure flavours.
One glass of elixir drink & closed by A cup of signature tea
Choice of one appetizer, salad or soup
Choice of one main course,
Choice of one plant based dessert
Use of our riverfront pool lounge
Fivelements Retreat, Bali, Indonesia
Two-Hours Culinary Training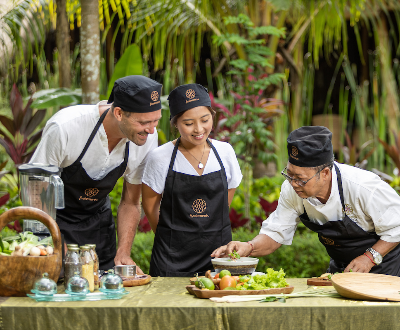 Inspiring Raw food culinary retreats for health, beauty & longevity
Welcome drink upon arrival then introduction to Living Foods
Culinary Demo: introduction to Basic Knife Skills
Break: Taste Samples of simple breakfast from the demo
Culinary Demo, Talk, quick and easy meal preparation
Creating simple menu for your daily healthy meal, Practical and lunch from the practical then relax by the riverfront pool lounge