Away Chiang Mai Thapae Resort - A Vegan Retreat
Chang Klan, Chiang Mai
Tucked away on a quiet lane, Away Chiang Mai Thapae Resort immerses you in a world of holiday bliss as you escape to our serene locale. Decorated with dark wooden floors, white balustraded balconies and unique roof details, Away Chiang Mai Thapae Resort's architecture and design have a pronounced colonial character infused with Lanna cultural notes, which are prominent in northern Thailand.
Accommodation
Away Chiang Mai Thapae Resort features 39 rooms. We offer Deluxe, Suite, Family Suite rooms and if you are eager to enjoy some long overdue pool time, Away Chiang Mai Thapae Resort offers several rooms with direct pool access. For guests who are lucky enough to book these rooms, they will enjoy the warm waters, sunshine and soothing vibes of the pool, just footsteps away from their door. These rooms are your very own slice of poolside paradise.
The concept of Away Chiang Mai Thapae Resort
You are invited to leave the modern world behind as you experience the soothing pleasure of our impeccable service and culturally rich atmosphere of our enchanting resort. And when you're ready to explore the ancient old city that surrounds our enclave, Chiang Mai's renowned Thapae Gate, majestic temples, and historic back lanes are just minutes away.
Delicious Healthy Dining
Feast on delectable vegan cuisine in Away Chiang Mai Thapae's "Moreganic Restaurant". Serving an array of mouthwatering dishes, both western and Thai, "Moreganic" sources only the finest, freshest ingredients to craft an innovative menu of vegan dishes. Moreganic Restaurant is open for breakfast, lunch and dinner, and can comfortably seat 40 guests in its luxurious colonial style setting.
As Away Chiang Mai Thapae Resort adheres to the Thai Buddhist value of abstinence, all cuisine served consists only of vegan food and drinks. The resort as a whole also practices this Buddhist value, and no alcohol is served in any of our outlets or mini bars.
With our variety of delicious holistic dishes, Away Chiang Mai Thapae Resort's Moreganic Restaurant offers health centric cuisine that calms the mind, soothes the body and delights your taste buds.
Facilities and Services
Air conditioning in all rooms
Rooms with private balcony
Garden or pool views
Airport transfer service
WiFi internet access
Concierge service
Tours and sightseeing information
24 hours front desk
Room service
Outdoor swimming pool including jacuzzi
Getting Away
At Away we encourage guests to:
Enjoy the slow life and to forget your watch and the time passing
Enjoy one of our homemade, organic herbal beverages
Enjoy innovative vegan dishes and creative beverages at our Moreganic Restaurant
Enjoy picking, cooking and eating your own meal
Enjoy a visit of Doi Suthep for a peaceful and harmonious mind
Enjoy a morning swim with Jacuzzi
Enjoy a Central Chiang Mai location
Nestled in the heart of Chiang Mai, within the moat-surrounded walls of the northern capital's old city on Thapae road is Away Chiang Mai Thapae Resort. The resort can easily be reached from the International Airport, which is located a short 15 minutes' drive away. Once you arrive, you can explore the colorful shops and restaurants, tailors and Chiang Mai's famous nightly walking streets, which are all within walking distance.
| | |
| --- | --- |
| | 100% vegan kitchen |
| | Gluten free options available |
| | Breakfast available, Half board available, Full board available |
| | Public restaurant |
| | Organic care products |
| | Vegan care products |
| | Internet connection available |
| | Family friendly |
| | Swimming pool |
| | Yoga, Meditation, Tai Chi / Qigong, Cooking courses |
| | Spoken language(s): English, Thai |
| | Certified by VeggieHotels |
Number of rooms: 37
Price per room from: 80 US$
For prices and availability please use the booking request or visit the website of the hotel
Booking request
Address / Contact

Away Chiang Mai Thapae Resort - A Vegan Retreat
Kotchasarn Road (Thapae Soi 5)
50100 Chang Klan
Thailand
Phone: +66 539 049 74

Special Offers
AWAY CHIANG MAI THAPAE RESORT - A VEGAN RETREAT, Chiang Mai, Thailand
VeggieHotel - Members Get More Discount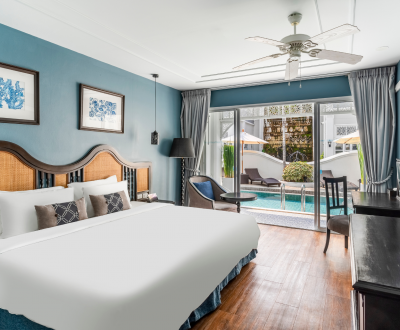 Special discount for VeggieHotels members, enter the code "VEGGIEHOTEL" on our website and save more.
Room with Vegan Breakfast 2 persons
TV / Air Conditioned / Hairdryer In Room
Telephone / Safe / Internet connection available
Toilet / Shower
Balcony
Swimming pool
Event dates:
Book Date: Now - 31 December 2024
Stay Date: Now - 31 December 2024
Away Chiang Mai Thapae Resort - A Vegan Retreat, Chiang Mai, Thailand
4 Days / 3 Nights Yoga & Sound Healing – A Vegan Retreat
Strengthen the connection to your true self with our powerful yoga and sound healing program that will help to improve your physical health and emotional wellbeing while enriching your body with our vegan diet meals
3 nights stay inclusive vegan meal, breakfast, lunch, and dinner
Daily yoga and sound therapy sessions
Cooking class for Thai dessert
Away Chiang Mai Thapae Resort - A Vegan Retreat, Chiang Mai, Thailand
5 Days All-inclusive Yoga & Massage Retreat Itinerary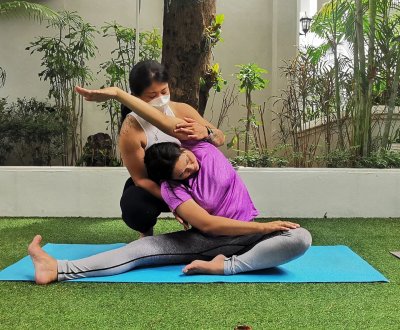 Our Retreats are ideal for people who wish to revitalize their body and recharge their energy while relaxing and distancing themselves from their regular daily routine. The retreats consist of yoga exercises which helps to release your office syndrome, relaxing spa treatments, plant-based meals, and creative activities for calming yourself.
Private airport transfer
Daily breakfast, lunch, dinner
Daily Yoga session
Daily massage: body scrub, Thai massage, Aroma massage