GOJI Vegan Hotel
Ixia, Rhodos
A vegan way of life
Our family has a long-standing tradition in hospitality and has been welcoming guests from all around the world for decades. With the hotel handed over to the new generation that embraces a vegan way of life, it became apparent that the accommodation had to adopt a more sustainable approach in terms of design and management. This is how the GOJI journey began!
Sustainability and and reduced carbon footprint
GOJI Vegan Hotel's renovation is based on two key principles aiming to reduce our carbon footprint; reuse and recycle. This has been achieved by refurbishing or repurposing some of the hotel's original equipment and by introducing smart appliances that minimise the environmental impact.
Vegan restaurant
Of course, GOJI's vegan restaurant/snack bar by the pool is at the core of our facilities. Our guests can enjoy their breakfast with handmade marmalades, a selection of bread, freshly brewed coffee or tea from local herbs with almond, oat, or soya milk and freshly cut fruits. For lunch, guests can try a local vegan dish every day, such as "gigantes" (giant beans) with vegan feta cheese and tomato sauce or our famous rhodian "pitaroudia" (chickpea balls with herbs). Guests can also choose their drinks from our vegan wine or cocktail list, like the GOJI Mojito.
Activities
However, our vegan philosophy is not limited only to our vegan restaurant. Holidays are all about relaxing, creating new memories and finding inner balance. Guests can either treat themselves with a Yoga class on our green veranda or, for the extreme sport lovers, visit the Ixia beach where they can enjoy wind or kite surfing under the breath-taking Greek sunset.
GOJI Vegan Hotel is situated in Ixia, Ialyssos of Rhodes, 8 minutes on foot from the beach, 4 km from the Airport of Rhodes and 9 km from the city of Rhodes and Old Town.
| | |
| --- | --- |
| | 100% vegan kitchen |
| | Gluten free options available |
| | Breakfast available, Half board available |
| | Public restaurant |
| | Vegan care products |
| | Vegan room facilities |
| | Allergy friendly rooms |
| | Internet connection available |
| | Pets allowed |
| | Swimming pool |
| | Yoga, Cycling, Hiking, Water sports |
| | Spoken language(s): English, French |
| | Certified by VeggieHotels |
Number of rooms: 14
Price per room from: 80 EUR
For prices and availability please use the booking request or visit the website of the hotel
Booking request
Address / Contact

GOJI Vegan Hotel
Mikinon str., Ialysos
85100 Ixia
Greece
Phone: +30 224 109 8235

Special Offers
GOJI Vegan Hotel, Rhodes, Greece
Christmas offer- 20% discount for summer 2024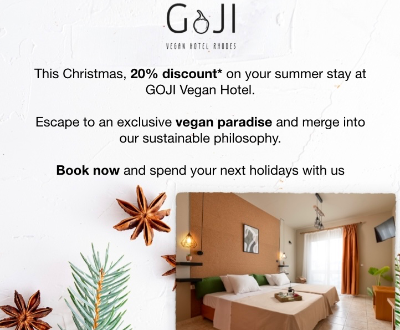 Celebrate Christmas with our exclusive offer– enjoy a 20% discount* on your summer stay at our exclusive vegan hotel!
Escape to a vegan paradise and merge into our sustainable philosophy.
Book now via our website and spend your next holidays with us.
20% discount in all rates
Yoga classes available upon request
Airport transportation upon request
Event date:
*for all bookings between 01.05.24-30.06.24, reservations made until 03.01.24